One play. Two theaters. Two countries. Twelve years apart.
Theaters matter. Sets matter. Staging matters. Acting matters.
A review of two productions of Harold Pinter's Betrayal.
I won't say too much about the plot in this review. This review is not meant to dissect Pinter's play. Rather, this is a production review. You'll have to read Pinter's play, or go see a production, to analyze the text itself.
---
Even though I have seen Shakespearean plays staged time after time in different theaters in England and America, I have always walked away going, well, that's a Shakespeare play even if the adaptation took some liberties with costume or set design. Roaring twenties Love's Labour Lost? Sure! Actors wearing all black and acting inside and outside of a circle to denote the dramatic space of The Tempest? Yes! It's all Shakespeare.
But sometimes a production of a play makes you question whether or not you just saw the play you thought you knew. How different things can seem. I realized this recently when I watched a performance of Harold Pinter's Betrayal on Broadway. I saw the play in the Bernard Jacobs theater on September 7, 2019. But this was not the first time I had seen the play on stage.
In 2007, I saw a performance of Betrayal at the Donmar Warehouse in London. To be honest, I knew nothing of Pinter's play before I saw it in 2007. I was on a drama trip in England with people from my university, and our professor purchased the tickets for us. I didn't even read the play before I went to the theater. I had heard of Pinter, but I had no idea what the play was about. I certainly didn't know it would unravel its tale in reverse chronological order.
I remember arriving late to the theater with three of my friends because we got off at the wrong tube stop and had to run to the theater. We grabbed a program and found our seats seconds before the play started. I'm glad we made it because there was not an intermission!
I also remember the intimacy of the Donmar Warehouse. Every seat was a "good" seat. The theater only seats 250 people, and seats surround three sides of the stage, which is more of a box than a theater in the round. Even the balcony seats, where we sat, are close to the stage.
The image below shows what the theater calls its balcony "circle" up top and the "stalls" on the bottom.
As I sat in the balcony I felt like I was a giant peeking into the top of someone's house and some people's lives. Think of the ghost of Christmas present in Mickey Mouse's Christmas Carol cartoon:
Kind of like a doll house, the set emulated that of a living room. The actors' attire was reminiscent of the late '70s (the time in which Pinter wrote the play). The set included items like a bed, thus giving viewers a voyeuristic sense of watching a couple dissolve in the hallowed space of the bedroom: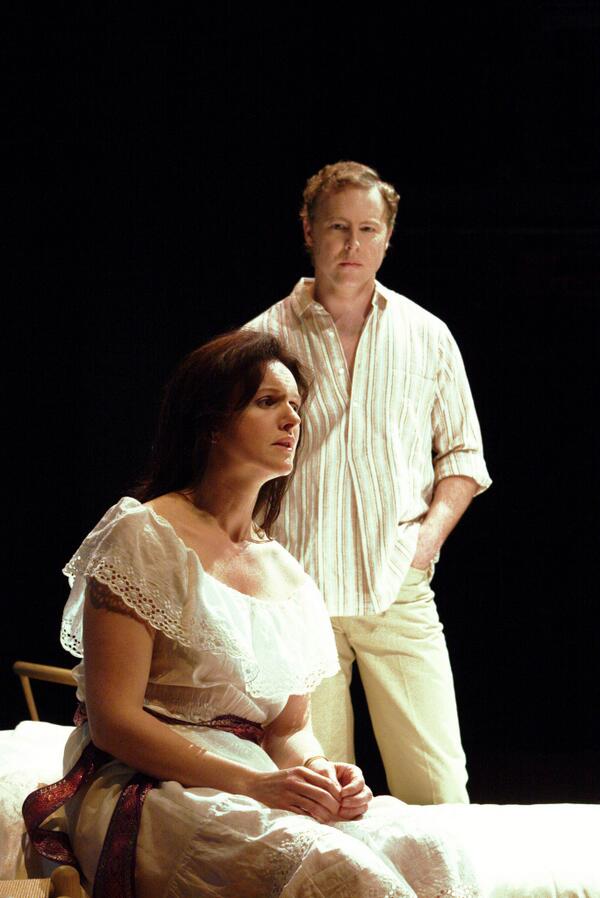 Above: Emma, acted by Dervla Kirwan, and Jerry, played by Samuel West, struggle to define their extra-marital relationship. Not shown here: Toby Stephens plays Emma's husband, Robert.
The acting of the 2007 production was superb, and though at the time I didn't know the actors, afterwards I saw them on BBC shows and movies and eventually on Netflix. I remembered seeing Toby Stephens in a Great Gatsby movie. I came to become a serious fan of West's work (Mr Selfridge and Frankenstein as examples), and I was thrilled that I got to meet him in 2007 when he came out of the theater and signed programs. Yes, he signed mine!
With this setting, this staging, and even this connection to the then-living playwright (as shown in the picture at the start of this post), the 2007 Betrayal directed by Roger Michell felt very close to Pinter's time (1978)–maybe even to his own inspiration (himself!). After all, Pinter kept it no secret that the play is in part based on a seven-year affair he had with Joan Bakewell.
I saw a lot of live theater in the summer of 2007, and I remember being impressed by this play. The small theater was the perfect space, I thought, for such a tale. To see inside two couple's, some may argue three's, struggles to define themselves, to grow, and to fade impacted me. I have thought about this play ever since–it is one that stuck with me as being so personal, so real. It felt like realistic drama. The dialogue was natural. The set could have been anyone's flat. The clothes looked like they walked right out of the 70s.
Beyond my appreciation of this realist production, the reverse chronological order surprised and delighted me. It was so darn clever. We always think it's right to start a story at the beginning, but what if we start at the end and work our way back? That's what Pinter does, and it makes the audience think about where we are now and where we've been, where we are now and where we will be.
---
Flash forward to 2019. New York City. Broadway. Jamie Lloyd directs Betrayal starring Tom Hiddleston, Zawe Ashton, and Charlie Cox. Previously the troupe had a run in London, but now they're making their Broadway debut.
This time I knew the play, or so I thought. I still hadn't read it. I had a print copy of the play, but I didn't read it beforehand. I wanted to just watch and listen and not compare the production to the play text. I didn't realize that I would be comparing the 2007 production with the 2019 in my mind the whole time.
Like the other production of Betrayal I saw in England, there was not an intermission. The play runs for 90 minutes without a break. We move back in time with the characters, awaiting the beginning of an affair that is obviously over, but is painfully still present in the hearts and minds of the characters.
Confession: I traveled from Maine to NYC to see this play because I adore Tom Hiddleston's voice. (Take a listen here.) Yeah, you read that correctly. I am a fan of his voice. He's a very attractive man, but his voice. Ah….I have been a fan of Hiddleston's work since I watched some filmed stage productions of him in Shakespearean drama, including Othello and Coriolanus (one of my favorite Shakespearean tragedies). Of course I knew Hiddleston from the Thor and the Avengers movies. I've also seen him in some other shows, such as The Night Manager. There's just something about Hiddleston's voice. I love a British accent, but it's more than that. His voice is velvet.
So when I heard that Betrayal was going to be performed on Broadway, I bought tickets for my husband and me, and I booked bus tickets to NYC for the weekend. The show is currently playing in the Bernard Jacobs theater, which is pretty much the opposite of the Donmar Warehouse. It's huge: it seats well over a thousand people.
Unlike my seats at the Donmar, which were in the balcony but still close to the stage, I sat in the second to last row of the mezzanine in the Jacobs theater. If you look closely you can see row J. 😛
I was far away, but that's really all I could afford. I had to buy two tickets, and paying over $200 a person to sit closer wouldn't do. But it was actually a good thing to sit farther away because I got a view of the entire stage that I would not have had if I were sitting closer. In a way, I got that birds' eye view, similar to what I had in 2007–but different.
The difference is that this production is not meant to ask the audience to act as voyeurs in the same way. It asks the audience to see this play as a work of art, and it asks us to watch characters watch characters, to think of a figure's symbolic presence–embodied on stage by actors that never exit the stage–even when they are seemingly not present in an activity, or scene.
When the screen lifted and the play started, I wondered if I was watching the same Pinter play I saw in 2007. It certainly didn't look the same. I roughly remembered the plot of Betrayal, and even the lines sounded different. This was not the same play, except that it was.
I like to be surprised, so I didn't look at any pictures of the set beforehand. I didn't look at pictures of costumes. Nothing. I wanted to enter the theater and see the play on its own terms. The set is minimalist. There is a screen. There is striking lighting. The scene is a speckled gray. There are a few chairs. A table. There are glass tumblers and beer bottles. The actors wear shades of gray, black, and pale blue.
Another thing about the set: there is a wheel in the center that turns. Look closely at the image above to see the actors standing inside the circle. From time to time the wheel turns, thus changing the scene and displacing certain characters from the action of the play. Because of this apparatus and due to the minimalist set design and muted costuming, the play does not give the viewer a sense of a real-life living room, kitchen, or flat. At all times, the audience is aware of the symbolic space that is the stage, and the fact that this is a play. In some way, we hearken back to Shakespeare's bare bones staging.
There were also a few added aural bits–particularly some non-diegetic music to denote tonal shifts, and also a Depeche Mode song ("Enjoy the Silence") used in segue. If you're keeping track, Depeche Mode's song was not a part of Pinter's script or stage directions. Pinter wrote the play in 1978 after all. The addition of the song especially contributed to the symbolic nature of the play. The play is as much about what is not said as what is.
The language in this production is Pinter's, as it was in the 2007 production, but it feels different–and this is a kind of reflection of the staging. It is punctuated by long pauses. Statements are uttered matter-of-factly. Gazes are elongated. There is a palpable tension in this play that at times borders on emotionlessness, but certainly is meant to show how awkward people are and how they can bottle up their feelings. They go through the motions sometimes. They save the sadness, rage, and happiness for other times. They are always public even when they need to be private.
I was blown away by the acting. These actors are at the top of their craft. But I was blown away by the set design, too. I thought it was amazing how the stage felt like a giant box, and the figures little toys placed inside of it. It reminded me of a project I completed in theater class in high school. I had to get a shoe box and create a stage out of it. I had to get toys for the set and find dolls to fit inside.
I don't mean to trivialize the seriousness, and the adult nature, of this production. It just felt metatheatrical. It felt like a work of art, rather than a play. It felt like I was at an art gallery rather than a theater. It felt like someone had carefully thought about how to translate a sense of voyeurism so well associated with the play into a sense of distant puppeteering. The audience was not pulling the strings, but there seemed to be a kind of ventriloquism at play on the director's part. And it was brilliant.
I'm glad I had seen the play staged before in such a naturalistic fashion so that I could compare productions. As a literary analyst I loved doing this, but I can see how people who had not read the play or had seen a production of the play before might have been scratching their heads. I read a review that suggested that this production is heartless compared to others, including some film adaptations. Maybe so, if what you're looking for is someone raging or passionately crying. But there is an understated emotion in this production–and I was in awe of that. It was refreshing.
In the end, the 2019 Betrayal on Broadway is as much a celebration of fine acting, staging, lighting, sound, and design as it is an adaptation of Pinter's 1978 play. It is a study in suffering. It is a reflection of the vulnerability of the human heart. It is meant to challenge the audience to think more about relationships on a symbolic level.
While I was taken aback by the differences between the 2007 production I saw in London and this performance, ultimately I am pleased with the changes. They remind me of the subjective nature of staging, design, and acting, and the drama instructor and theater geek in me absolutely loves that reminder.
If you can get tickets to see this show, you should do that. The run ends on December 8, so there's no time to waste.