One of the things I love about Netflix is that you never know what you're gonna find. I stumbled upon this 2020 Portuguese film, which is translated as Just Another Christmas. I had no idea it was a foreign language film because of course Netflix actually has this as its ad for Americans: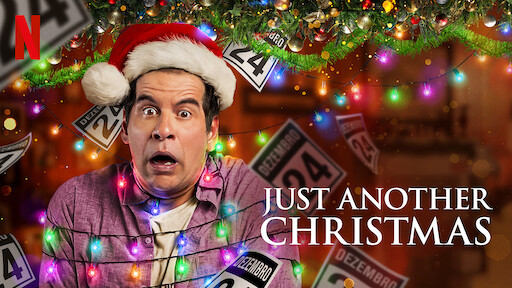 I put the movie on and was surprised to hear the actors speaking (quickly) in a foreign language. Within seconds I realized it was Portuguese, which delighted me! One of the things that isn't so pleasant is that the star of the film is constantly yelling–his normal way of talking seems to be yelling! This made my husband a little anxious. 😀
So we watched about a third of the movie and then turned it off. We tend to watch these movies at night, so we kind of needed to chill out, not wind up. The next day I decided to watch the rest of the film, but in English.
Yup, I did that horrid thing where I changed the audio to English because I was planning to multitask and listen to/watch the film, and I couldn't do that and read the captions. While I was watching the film, Adam entered the living room and agreed that it was easier to watch with the dubbed English, but we certainly missed the original language. We did not miss the yelling. The American voice actor did not yell as much!
Let me get to the plot: it's a Groundhog Day reboot, but Xmas style. This guy whose birthday is on Christmas hates that day, so fate has plans for him to learn a lesson about the value of Christmas. He has to live Christmas Day again and again for years.
A lot of things happen between the Christmases, which is certainly a part of the plot, but I don't want to give everything away. I will say that one of those things has to do with breast cancer, which I was not expecting–like, damn, it's everywhere! While there are some serious moments in the film, overall it's a comedy. There are some funny moments for sure.
In the end I enjoyed a lot about this movie, but not all of it. I recommend you give it a watch, and you can decide if you want to listen to it in Portuguese or English (or some other language). 🙂