#whatprofessorswear
It's January 26, 2011, and the sun is out in my neck of the woods, which means that it's a cold day in Maine. What better way to warm up than by putting on some sweats, right? Well, I'm teaching online today, so I shouldn't be wearing a sweatshirt. Sweatpants–no problem; sweatshirt–not really teaching attire for me. I'm one who enjoys dressing up for class, but today I decided to wear a sweatshirt anyway!
Not exactly. I'm wearing my new Big Bird yellow, "cozy snood sweatshirt" from the Banana Republic factory store.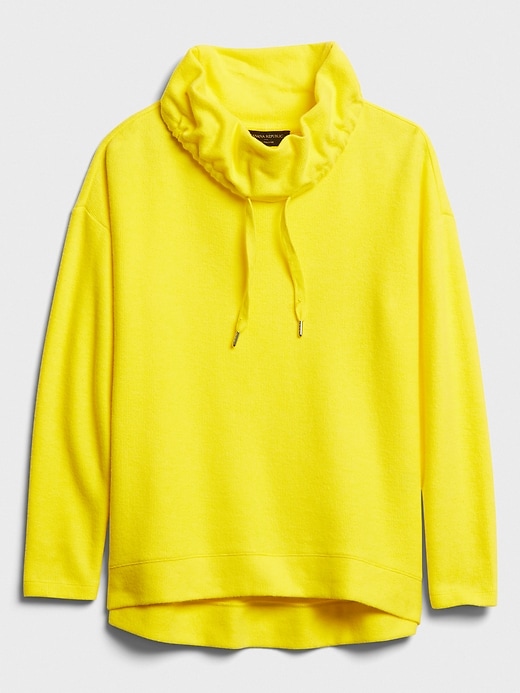 I got this item on a deep discount during Black Friday (which was really a week at the end of November). Here's the model wearing the shirt: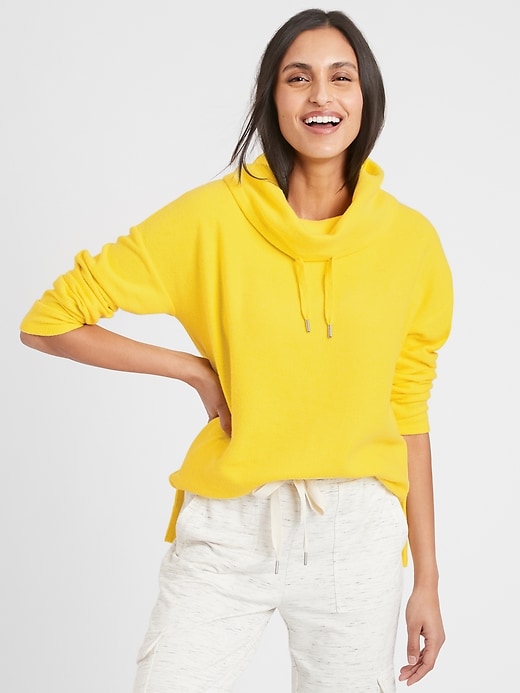 She looks so happy and relaxed. Cargo pants? Cowl neck sweatshirt? Yeah, she's ready to sit in her house for months on end and chill.
Oh, wait. She's going out for a run or a walk: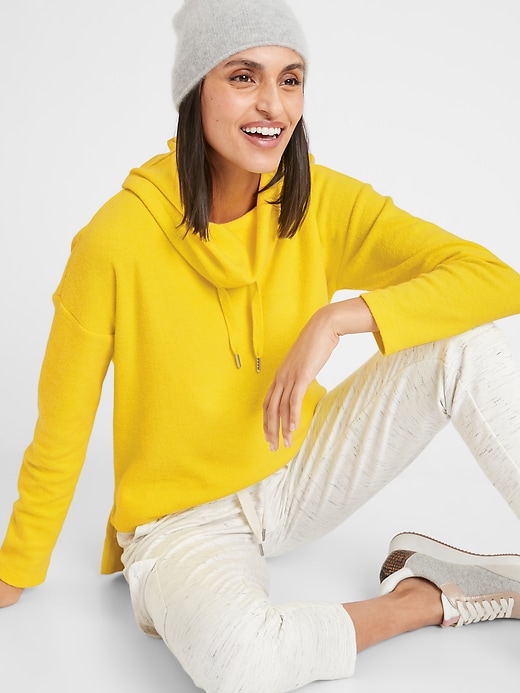 I'm ready to sit here on Zoom and teach:
Zoom teaching and bright colors go together like peanut butter and jelly. The first day of class is definitely a wake up and get excited about the semester kind of day.
As you can see I'm also showing off my new hair color–supposedly "Midnight Amethyst." I normally go to the hairdresser to have her color my hair, but with COVID on the rise I decided to try my own fashion color dye. This was a first for me, and the color turned out kind of blue-purple. I guess blue is the midnight and purple is the amethyst. Anyway, it doesn't look like the color on the box, but that's OK.
Also: I didn't do fish face or duck face when I took my selfie.
So, I'm curious to see how this color washes out. I'll post some updates. For now, I am enjoying the dark color. I've always had light colored hair (until it fell out), and now I'm experimenting with different colors. I thought I might hate the dark color on me, but I'm enjoying it!
I'm also feeling good about this color combo: canary yellow + midnight amethyst + plum lips = win!
I hope you enjoyed your first day back in the classroom–whatever that means for you.